Our offers
Our guests know: Blond is not just a haircolour. Blond ist pure life. Und so plakatieren wir nicht einfach nur sexy pics für immer wiederkehrende Einheitsbrei-Parties. Wir präsentieren Euch Spaß auf jeden Fall. Also: Was du siehst ist was du kriegst. So ist blond. Zu leckeren Cocktails und Drinks oder Kaffee- und Kuchenspezialitäten - für jeden ist etwas dabei.
We organize your gay life - so much fun right down the line.
| | |
| --- | --- |
| Chili con carne | 4,50 € |
| Bockwurst w. potatoesalad | 4,50 € |
| Etli Pilav | 4,50 € |
| Schinkenknacker in bread | 3,00 € |
| Currywurst | 3,50 € |
| Käseknacker with bread | 3,00 € |
| POTATOE soup Homemade | 4,00 € |
| Wiener w. | 4,50 € |
| SÜSSES | |
| div. homemade pastries daily special | 3,50 € |
| Icecream div. daily special | ab 2,50 € |
| Bananasplit and much more | 3,50 € |
Sundowner @ Blond
Take advantage of our sundowner special. Keep walking – come to Blond. Relax and take a deep breathe.
Create your own lounge music at our jukebox and meet people before the night gets started.
Get ready for another spectacular gay night in Berlin. And create your plans for tomorrow.
Monday through Friday 5 to 8 p.m.
---
Cocktails & more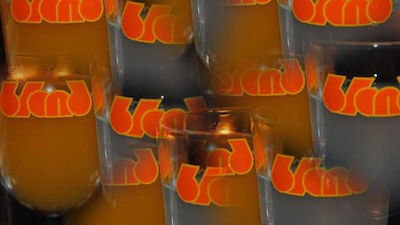 So that it is not getting too dry, we offer you the best cocktails and more drinks until you drop in the Gay Bar Blond. That is now not to be taken literally. But the drinks are a poem in the blond, whether one of our more than 80 cocktails, wines, beers - the famous Radeberger is of course - or even coffee and other non-alcoholic variations.
cocktails at their best
... and in a bar in the trendy neighborhood of Berlin-Schöneberg. The bartenders conjure more than 80 cocktailcreations à la carte. And of course, your special requests will be fulfilled.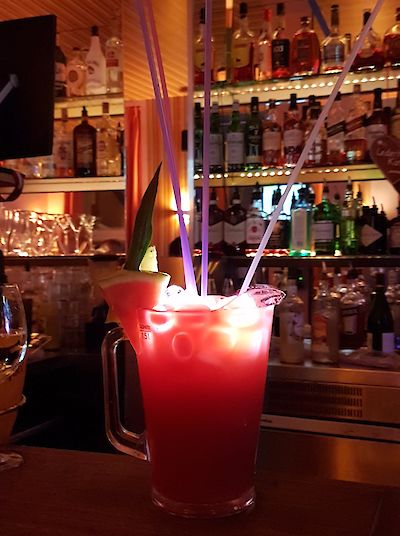 There's pretty much nothing that doesn´t exist about good drinks. Yes. Good drinks. The standard suffices you would have to order elsewhere. Sorry. In any case, we rely on original and quality. That has its price, but it also has its special value. Our guests appreciate it. After all, nothing is worse than a heavy head at the day after.
Best spirits - all original
Of course we use best spirits for our cocktails. Between Gray Goose, Hennessy XO and Remy Martin XO, there is everything that makes the palate rejoice. Every cocktail tastes like or even better than in the best hotels - and the competition is huge. The Waldorf Astoria is only a few minutes walk from us. As well as the Esplanade with Harry's New York Bar and the Adlon with its Lobby Lounge. We have to be world class to keep up.
Our blond bartenders guarantee the best quality at the highest level. And the blond service is proverbial, of course.
Everything is first class in the BLOND. Just like the blond guests, the boys and the girls and all the other nice people. It´s a must. You see it the same way? Please pass it on.
The blond cocktails as pdf you find here.
---
Sweet Blondes
Now here's something for the blond hips: cake and pies in blond. In summer even early from 12 o'clock. Of course, specialty coffees are served. Whether Irish coffee, latte macchiato or cappuccino, you find it all here.
Eve mood
What good is sitting alone in your room ... come to the terrace in front of the blond and watch life in summer? Remaining night owls fall over here as well as Eastern European adolescents. They're kidding you when it comes to services.
But beware. Too often, the friendly boy turns out to be a little thief, who's only after your belongings. For your safety, we have made sure that the city has set up a taxi stop in front of the blond.
And then there are the other guests of the blond. A colorful international mix of gays of all ages. There is always an interesting conversation possible and sometimes more ...
---
Gayburtstags…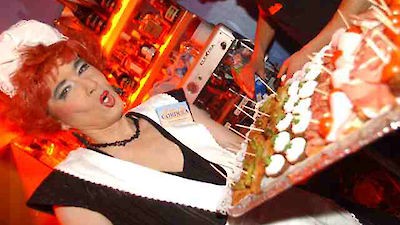 ... and other parties in the blond. Birthday, wedding - every party is something special.
Drinks, buffet, singer, show - for your fun is taken care of as you like it. Use our contact form to get informations.
Or just ask for Emanuel, Reinhard or Robin in the Blond.